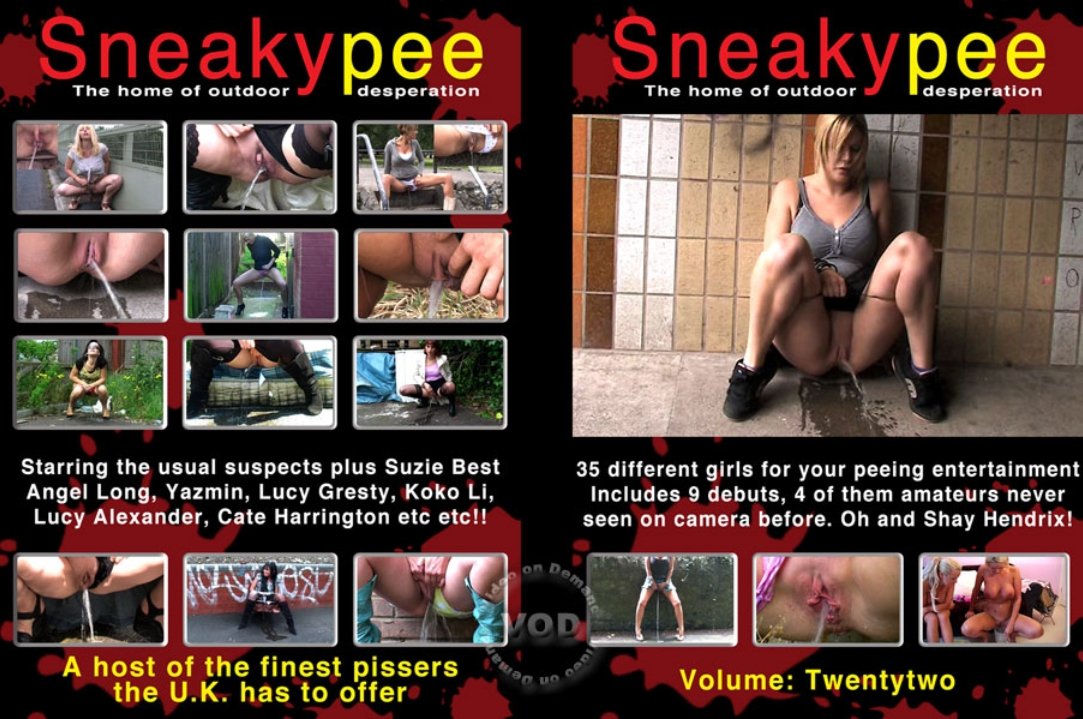 Angel Long, Beatrix Bliss, Caroline Foster, Cherry, Clare Olsen, Jessica Wood, KazB, Lolly Badcock, Lucy (Zara) Stenson, Lucy Gresty, Michelle B.
Hot girls peeing in public. Straightforward. Simple. Erotic. According to the interview in the film, these girls drink about a liter or more of water and then unload in the public. The amount of urine that comes out of these women is truly remarkable. Unfortunately, one girl doesn't get a chance to pull off her panties before the piss drips on her pants. If you're into urination then there is no substitute to the Sneaky Pee series!
Sneaky 22 features 41 individual pee scenes, 35 different girls, 9 debut performances, with 4 of the girls exclusive to Sneakypee. Great stuff from Katie and Tiff K, Koko Li standing next to the A40, a very close up view of Isabella's arse, Minx wetting her knickers and legs. Want more? Sure, we've got Clare and Lucy Zara's stunning joint interview, Tiffany recycling big style, Cate Harrington wriggling around, the return of Lucy Gresty, Claudia flashing her huge tits, mega close ups of Michelle Barret's pissing pussy, a fabulous scene from Lolly Badcock, Tori's tampon play, Angel Long wetting her denim shorts, Isabella spraying the bucket, Kaz B getting daring, the ever elegant Bianca jetting her pee out, plus many, many more.