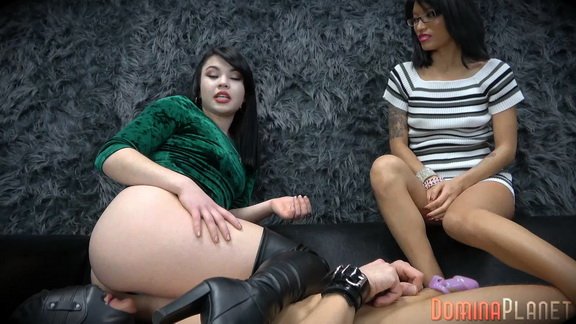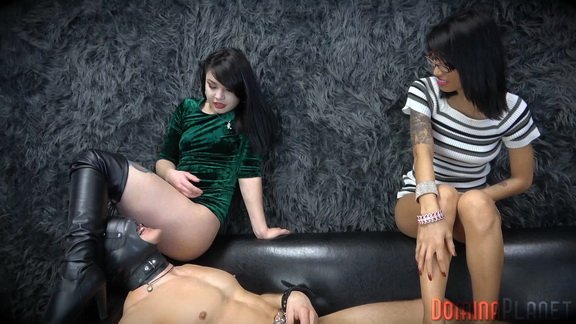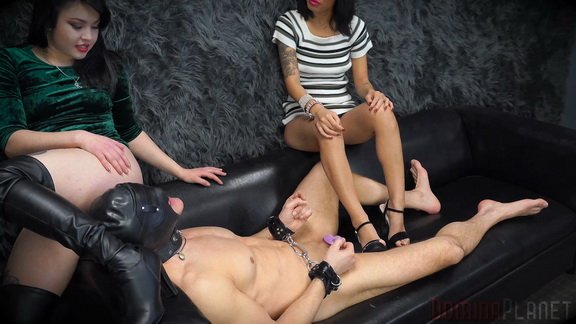 Goddesses Raevyn Rose and Asia Perez are sitting on top of Raevyn's new slave. He is hooded, blindfolded, in chastity, cuffed & collared. They're using him as human furniture and discussing how many slaves Raevyn's been training lately and how many uses She's found for slaves. Goddess Raevyn explains that She uses them for literally anything at all, and that this one is going to be trained to smell Her farts. As She is explaining this, She climbs atop his face, wearing just a super shear pair of thong panties.
As She is explaining this, Her beautiful little anus can be clearly seen with just a string over it and She pops out a short blast of ass air right into the slaves face. He recoils and grunts, making small choking noises while Goddess Asia shockingly asks, "Did you just fart?" and of course Goddess Raevyn confirms this and the girls laugh and laugh at the slaves gasping and choking. They talk about what kinds of things give them gas, and Goddess Asia climbs on top of him. She wants to give it a try because She feels some pressure in Her bowels.
She positions Her tiny little ass directly over his face….and rips a short blast right in his nose. Goddess Raevyn loves it, and asks him how it tastes, as it went right into his mouth and so he had more of a chance to taste it than smell it. Raevyn gets back atop Her slave and continues to explain slave training to Goddess Asia, while She tortures the slaves chastity. Raevyn gets Her gorgeous, bubble but into the slaves face, but he can never tell because of his blindfold. She positions Her cute little, thong string-covered rosebud directly over the slaves nose and lets loose with a series of blasts. She forces the slave to thank Her for Her farts, and to tell Her how delicious they smell. She tells him he isn't even good enough for Her precious ass gas, but She's in a generous mood and to properly express his gratitude or suffer the consequences.
While the slave is choking on the smell, Goddess Asia is progressively torturing the poor pig with Her razor sharp heels; you can see the red marks She is increasingly covering the slave with, as he howls in pain and gasps for air, only to have it be air that was just seconds ago in the colon of his owner Goddess. The ungrateful pig continues to scream as Asia shows no mercy. Finally, the two gorgeous Asian sadists walk off to their next victim.
Check out our other Fart Face videos!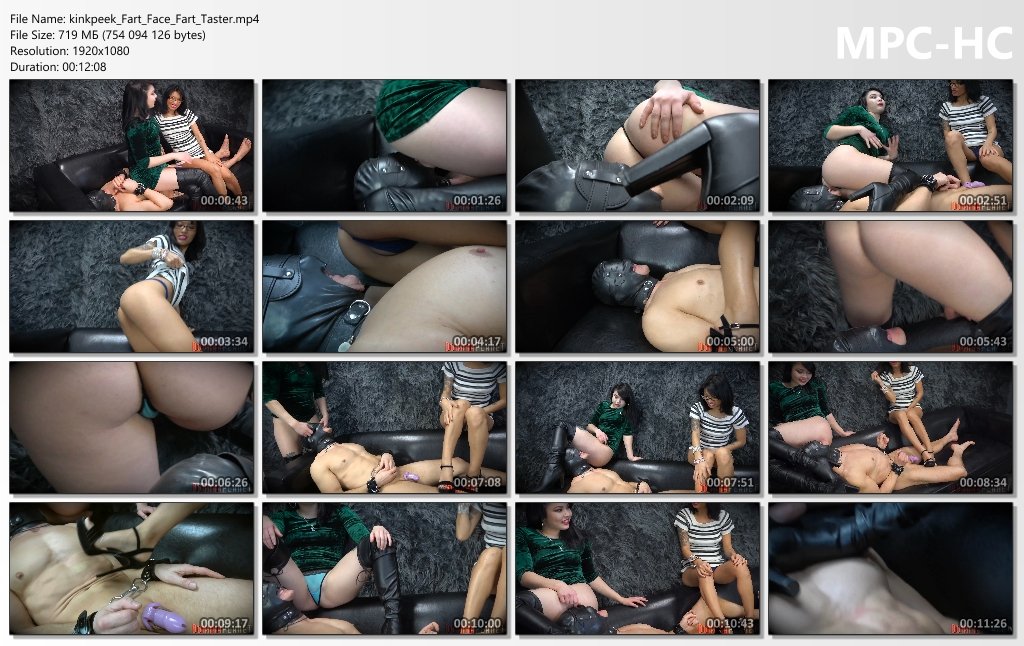 kinkpeek_Fart_Face_Fart_Taster-_01.mp4
The post kinkpeek – Fart Face 8: Fart Taster ($12.99 ScatShop) first appeared on Extreme Scat Porn Site #1.