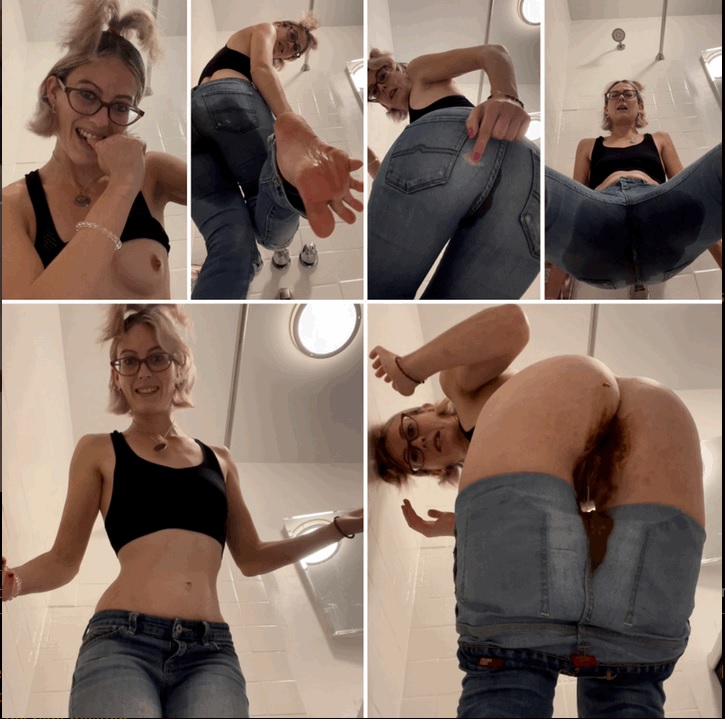 Hey babe! I've heard your request and I'm ready to give it a try! Time to Poop in my Jeans for the first time!! There's a hole in the left cheek of my favorite jeans, I'm hoping some poop gets pushed through it! Haha we'll see!
I start to push, trying to find the right position…
Wow, it's harder than I thought it would be, my body doesn't understand yet what's going on lol. While pushing, I start to pee and soak my jeans! It's so warm! I love it!
I continue pushing and a little bit of poop comes out!! Huzzah!! But you cannot see it through my jeans yet, I have to push more out. I change positions from bending over to crab and push some poop out in this position. Wow, this is harder than it looks!
Ok, I think I have enough poop in my jeans now. Wanna see how much poop I have so far? Ok, here we go, 3, 2, 1, I slowly pull my pants down to expose so much mushy vegan poop! It's covering my pussy and smeared all in my favorite jeans! I give you a close up for a few moments so you can really see how much I just pooped in my pants for you!
I pull my pants back up and go for round 2, feeling more poop trying to escape. I catch it in my jeans and continue filling up my pants with fresh smelly poop for you.
Ah, that's better. Omg, I'm late for work! Hahah, you want me to go to work like this?? Just waltz on in wearing my pooped in jeans?! Everyone's going to know that I just pooped my pants! How embarrassing! Ok, here I go! Wish me luck at work today! Hope I don't get fired lmao!

TrixieSquirts
Categories: Panty/Jean Pooping, Pee, Poop Videos, Scat, Smearing
Length: 15:18s
Resolution: 1920×1080
Download Format: mov
File Size: 1 GB
First_time_Pooping_in_my_Jeans__TrixieSquirts___9.99_Scatbook_.mp4
The post First time Pooping in my Jeans! starring in video TrixieSquirts ($9.99 Scatbook) first appeared on Extreme Scat Porn Site #1.