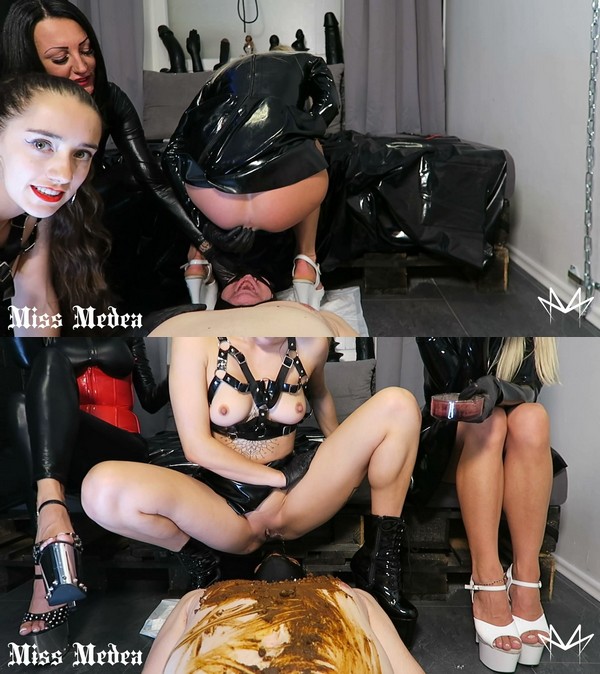 Are you ready for the toilet clip of the year?
Three mistresses use a pathetic slave as a piss and shit hole. With Miss Madison and Mistress Royale, one slave will get the filthy toilet training of a lifetime.
This dirty oug gets to eat 3 varieties of scat and more piss than he can swallow. Each dominatrix brings her own unique personality into the training. Miss Madison her strict humiliation, Madame Royale her sovereign dominance and I my playful perversion.
The clip starts with a good portion of dirty talk & humiliation. This son of a bitch needs to know what's about to happen and who's in charge here! Our slave is already so scared. He knows how hard it will be to serve 3 mistresses as a full toilet … The first filling he gets is a never-ending waterfall of my piss. I sit down between the other 2 mistresses and spread my legs. Now I let it run, on and on… Already now our swallowing cunt has to fight with himself. I suggest to the other ladies that they help me to shave my pussy. Miss Madison and Miss Royale help me to rinse my shaved pubic hair into a bowl. Meanwhile, you have the great honor to admire my pussy in close-up. Miss Madison decides without further delay to add her morning urine to the pubic hair soup. Yummy! We then administer this delicious mixture to our filthy toilet through a funnel and then laugh at him.
The first portion of shit is coming… Our toilet gets it directly from Miss Madison's ass. After he has taken it dutifully, Madame Royale announces the main course. Our slave must lie down under the toilet chair and open his mouth big. See for yourself what a huge load Madame Royale feeds to this shit eater. Big, hefty shit balls! We make our toilet hold the shit in his mouth and chew, but he does not manage to swallow it whole. As punishment, we embalm the ungrateful pig with her shit. Dirty as he is, this loser is used one more time as a toilet. First I piss in his mouth. Then I also unload a huge shit sausage directly into his mouth. Brutally, Madame Royale and I press the shit into him. This misery of a slave must finally learn it. Our scat is a precious gift that this useless toilet has to honor more.
Who wants to try next?
Clip language is German.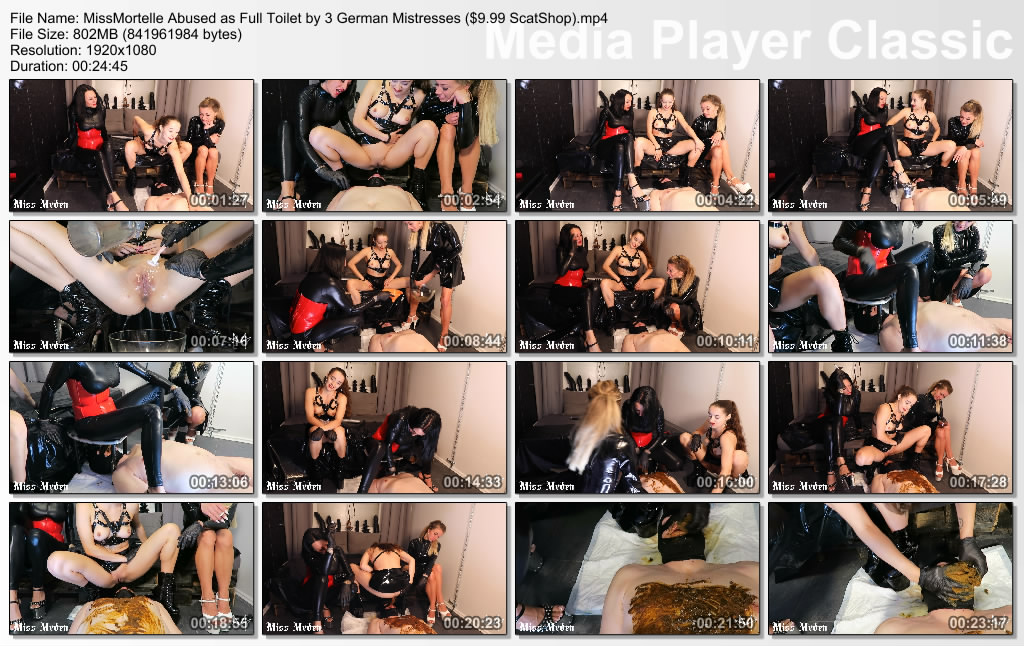 MissMortelle__Abused_as_Full_Toilet_by_3_German_Mistresses___9.99_ScatShop_
The post MissMortelle: Abused as Full Toilet by 3 German Mistresses ($9.99 ScatShop) first appeared on Extreme Scat Porn Site #1.